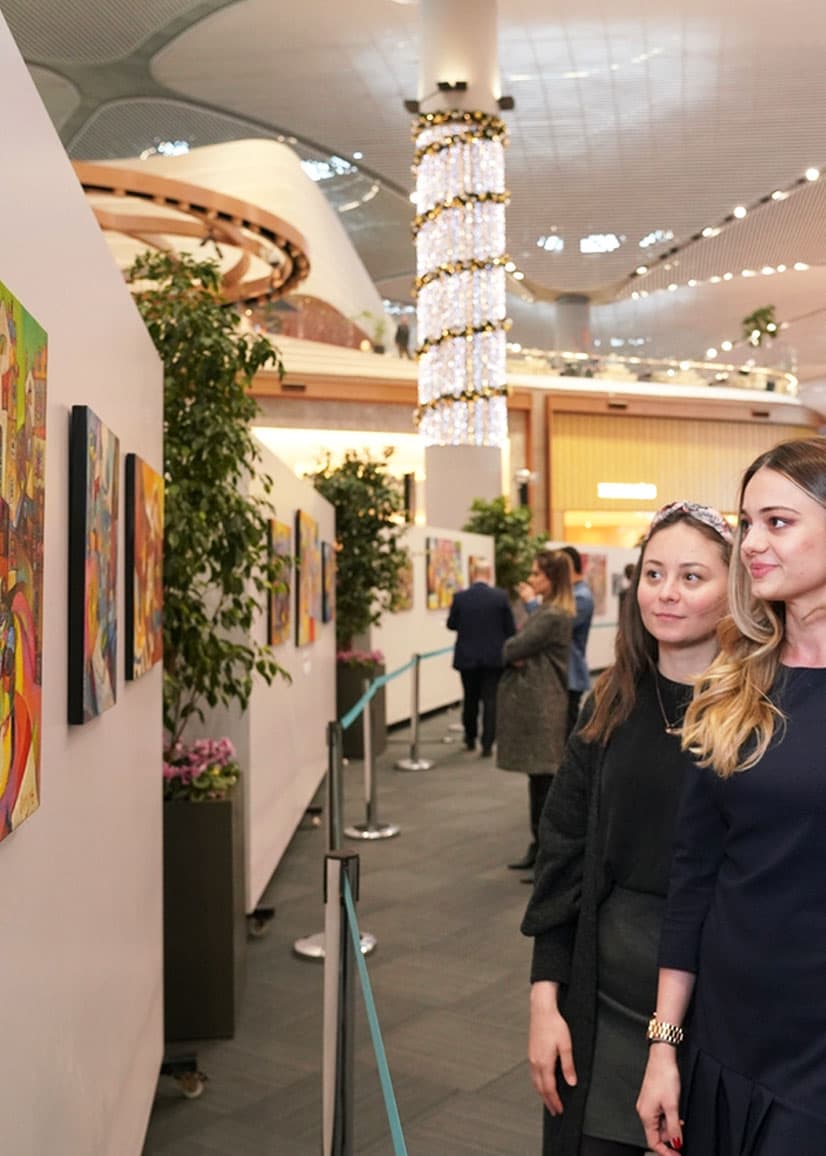 "What is reality and what is fantasy?"
A master painter of light, Bengez captures the warmth of sunlight and the beautiful colors of the sea. With his fine attention to detail and bold use of color he both fascinates and inspires the viewer. His subject matter is gathered mainly from the everyday life along the Mediterranean coast as well as Parisian cafes or New York nightlife. It is really enchanting to observe how the unique adopted composition structure enables the artist to express particularly sensibly the atmospheric mutations with small touches of colour, seasonal nuances, meteorological excursions, changes of lights and of their reflections during a single day, in the course of months or in shifting the focus of the attention to different details giving titles to his works.
Giovanni Granzotto
"…so each witness of places, each new story of the Croatian artist, ewen when the occasion, the sparkle has lit up in far lands, in the northern lands,or when the image refers to other Meridians and Parallels, to other Continents, goes on taking on a light and an emotional intensity of evident Mediterranean roots. In reality, Bengez always paints the same landscape, or rather paints proposing us a thousand perspectives of places but always facing them with the same emotional charge, with the same hearth, and with the same visionary eye….
Miljenko Bengez's painting is sumptuous and well-chosen,revealing the joy of being able to tell without fears and constraints, with no more limitations, be they ideological, geographical or economical, the adventure of freedom and fantasy, in his repossession of new worlds not only meant from the geographical point of view."
Giorgio Segato
"Each Bengez's painting is a story somewhere between dream, fantasy and reality and takes the painting's opportunity to offer 'simultaneity' of vision, of sensations, of different places and times, of experiences and evocations, of confidence and desire.
A privileged subject of his figuration accentuated in skilled rhythmic grounds of saturated and luminous colours is an urban utopia, a city as a dwelling place, a place to live in, a place for attentive listening and intensive feeling, of a community able to organize itself, inventing its own patterns of integration and cooperation, shaping itself in an infinity of different and supplementary situations, sometimes conflicting, but nevertheless, always tending to amalgamate at the time, in form, in different uses and manners, in habits and in colours…"
Iva Körbler
"Miljenko Bengez u ovom je trenutku hrvatski slikar koji se najsloženije sustavno bavi perspektivom, no čije istraživanje i primjena poliperspektivnosti nikada nije postalo samo sebi svrhom. Usložnjavanje vertikalne, inverzne, ptičje i kolorističke perspektive na jednom platnu redovito rezultira besprijekorno dinamiziranom igrom motiva, odnosno, fragmenata motiva i ploha boje. Mnogi su kritičari, pišući o kaleidoskopskoj igri u djelima Miljenka Bengeza, zapravo pogađali srž njegova slikarstva koja se odnosi na umjetnikovo dubinsko percipiranje usložnjene, višedimenzionalne stvarnosti, jukstaponiranja sjećanja nekoliko različitih prizora iz različitih vremenâ (možda čak istoga mjesta!) u istom vremenu unutar prostora slike. Prožimanje planova na slici iznimno je slojevito, logično slijedeći bogatstvo arhitektonskih fragmenata gradova i mjesta u kojima je autor boravio, ali, ujedno, signalizirajući nanose sjećanja i atmosfere jednog podneblja. Arhitekturi koja na slici stoji umjesto ljudi dan je samostalan život kroz uporabu ritmički pokrenute kompozicije, naglašenog centripetalnog ili centrifugalnog kretanja prema rubovima kadra, iako će se u novim radovima moći pratiti jednakomjerno raspoređene elemente slike kojima je glavno sredstvo oživljavanja i razlikovanja od drugih identičnih motiva arhitekture upravo boja.
Kao da se unutar slike dogodilo potpuno idejno i metijersko oslobađanje, onaj trenutak kolorističke meditativnosti i autokontemplacije umjetnika koja govori o poziciji zaslužene samosvijesti, pa čak i neke – krajnje potrebne! – neopterečenosti spram stava kritike ili javnosti. To je upravo ona emotivno-mentalna točka na kojoj tada nastaju najbolje slike."
"There is something middle – European and completely cosmopolitan in the paintings of Miljenko Bengez ; an imprint of styles without school labels or trademarks. His work contains all the dominant components of the 20th century masters Marc Chagall, Paul Klee and Vasily Kandinsky. The ingredients of Bengez' paintings are not re-creations of the above-mentioned masters, but fresh, lyrical interpretations that are created from his insightful and expressive personality, as well as the results of his exotic, geographical travels. This painter creates profound imagery that are powerfully and precisely complete. The dynamics of the work are unique, courageous and virtually limitless in scope with a broad quintessential, cultural and historical characterization. This melange or mixture of style is impressive; luminous,and brilliant in color and replete with an extraordinary poignant poetic impact. His talent and his personality are reflections of seduction that renders the infinite question and permanently recalls a vision, a metaphor, "What is reality and what is fantasy?"
"Nakon dugih i iscrpljujucih americkih itinerera Miljenka Bengeza ne bi me iznenadilo da se ovaj slikar, impresioniran ili frustriran betonskim megapolisima, oprostio od svojih idilicnih primorskih gradica s njihovom kleovskom dimenzijom njeznosti i ljudskosti. Da se to dogodilo bio bi to, ocito, surovi izgon iz raja " malog urbanizma " u kojem se bezbrizno udomila Miljenkova fantazija koja je, barem do sada, odoljela lukavoj biblijskoj zmiji intelektualne spekulacije. Slikaraski dozrijevajuci godinama u svojoj zagrebackoj izolaciji, miljenko je osjetio neodoljivu potrebu za egzodusom i krenuo u Ameriku. Mogla je to biti i pustolovina s neizvjesnim ishodom da Miljenko nije vec bio formirani slikar, metjerski i artisticki. Malo se toga u djelu zrela slikara imože izmijeniti: Miljenko je vec upoznao sjenovite iuske kalete malih gradica uz more, skupine kuca koje se intimno stiscu u kamenom zagrljaju, one cudesne aglomeracije " malih urbanizama " koje se formiraju poput kristala svjetla. Miljenko je krenuo s ovim kristalom primorskog gradica i nije vise bilo mogucnosti da ga bilo sto izmjeni."
"…I can easily recall the excitement and stimulation that was felt by visitors when Miljenko Bengez had his first one-man exhibition in Soho (NYC) in 1994. The radiant spirit characterised by his paintings portrayed a complex combination of medieval Croatian villages, a cosmopolitan dynamism of his experiences in new york and a bold, fresh and witty approach to the canvas. Both profound and provocative, he created beautiful images through his masterly use of color, light and shadow. Powerful contrasting pictorials that emulated the great humorous and textured works of Paul Klee and Vassily Kandinsky.
Now, Miljenko has found, through his various life experiences and artistic evolution, a new milestone in his already successful career. The water color is certainly the most difficult medium to interpret in the painters milieu. Always an accomplished colorist, his palette and the contrasting elements of his new work take on new meaning. The new water colors show a brilliantly spontaneous quality counterbalanced by the jewel – like, opulent application of transparency and opacity. Normally, most artists, with some difficulty, can move into another medium. Miljenko does not segue' into this new innovation, he captivates it! He conquers it!"
Lucija Oresic

"Bengezov likovni jezik iznimna je sinteza suvremenog europskog slikarstva i u njegovoj osobnoj sintaksi prepoznat cemo i Cezannea, Kandinskog, Feiningera, Kleea, ali i Svecnjaka i Tartagliu. Osobna, kreativna parafraza svih navedenih autora uvijek će otkriti autenticnog autora Miljenka Bengeza. Bengezovi gradovi nastaju mimo mnogih suvremenih trendova i posebna su likovna vrijednost koja je nasla svoje mjesto u galerijama i kolekcijama Europe, Amerike i u posljednje vrijeme Azije."
Duro Vandura

"Miljenko Bengez je uspio u svom opusu, pokazanom na nizu samostalnih i skupnih izlozbi od Ljubljane, Zagreba, varazdina, do New Yorka i New Jerseya, ostvariti sintezu svjetskih, suvremenih, slikarskih postulata, mediteranske topline i sjetnosti s individualnim kolorizmom, crtezom imastovitim senzibilitetom."
Goran Blagus

"Ovo svjesno odupiranje da podlegne svim mogucim danasnjim trendovima i da se tako " utopi " u masu umjetnika bez indetiteta i vlastita podrijetla, Bengezu priskrbljuje dodatnu kvalitativnu poziciju. Naime, njegova neposredna zestina i bujnost vlastitih dozivljaja i osjecaja, udruzena s vizualnom neponovljivoscu domovinskog podneblja, sasvim ga sigurno udomljuje na svim geografskim podrucjima kao izvornog i autenticnog predstavnika zemlje iz koje dolazi. S takvim prednostima svog duhovnog i likovnog razmisljanja slobodan je prepustiti se stvaralastvu koje ce nedvojbeno osvjeziti danasnje malajsale umjetnicke prostore, a gledateljima iznova vratiti optimisticku zivotnu vedrinu."
Zoran Ferić

"Ono što svakako intenzivira fascinaciju Bengezovim gradovima jest jedna igriva vedrina, šarena na lijep naein, a prije svega zavodljiva do te mjere da eak niti ne želimo uči u te malene kleeovske labirinte, istraživati proeelja ili zamišljati kakav se život vodi iza prozirnih opni zatvorenih prozora. Ne. Bengezove gradove uživamo gledati s nekog brežuljka, promatrati njihovu neobienu panoramu, kao ljudi koji su do njih došli nakon dugog pješaeenja, gladni i žedni i sada ih vide kao obečanje, kao mogučnost odmora, kao lijepu neobavezujuau zbrku koja je ipak podre?ena nekom redu, nekom svom vlastitom suludom urbanitetu. Podsjeaaju te urbane strukture i na Borgesov alogieni grad besmrtnika, ali su lišene borhesovske težine i osjeaaja apsurda. Ako se ovdje i radi o alogienosti ili apsurdu on je vedar i ne plaši nas nego privlaći, poput igre u kojoj se pravila izmišljaju tokom samog igranja…"